Volvo Press Release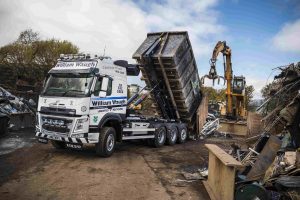 Fast approaching its 160th year in business, recycling and logistics specialists, William Waugh (Edinburgh) Ltd has put a new Volvo FM Tridem rigid into operation in addition to eight Volvo FH-500 Globetrotter tractor units taken earlier this year for its logistics works.
Supplied by Sean Merrick, Transport Solutions Executive at Volvo Trucks and Bus Centre North & Scotland's Edinburgh Dealerpoint, the FM Tridem is equipped with a Globetrotter cab and a hook lift body, which can be used with skip, flat bed or curtainside bodies.
"The latest FM is our first dual-branded truck in the fleet. It provides maximum vehicle utilisation across our metal and waste recycling works, in addition to its potential on multi drop collections or deliveries for our logistics operations," notes Alan Waugh, Managing Director at William Waugh (Edinburgh) Ltd.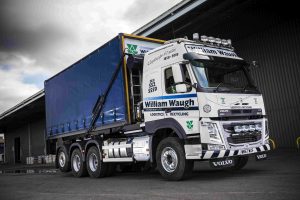 The 8×4 rigid Tridem chassis is powered by Volvo's D13K engine rated at 460hp. An I-Shift 12 speed automated manual transmission system drives the single reduction, tandem drive axles, equipped with differential and cross locks. An improved turning circle is offered with the hydraulically steered rear tag axle and Volvo's Tridem design offers a combined rear bogie design capacity of 27 tonnes.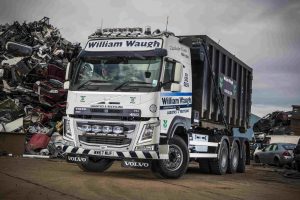 "I researched a standard 8×4 rigid chassis' capabilities against a Tridem and decided on the latter with a 9-tonne front axle. That specification ticks all the boxes for our weight critical operations and a 3.9m wheelbase with a steered rear tag delivers the required manoeuvrability. The truck is our first rigid to combine a Logan Inglis Multilift XR24S hook loader body and sleeper cab. The high roof Globetrotter option gives better driver comfort levels and increased external panel space to use some special 160th anniversary branding with the livery," adds Alan Waugh.
The company uses Volvo's Dynafleet fleet management system for vehicle routing and to maximise fuel consumption figures.
"Our drivers have the Dynafleet app on their mobile phones and there is healthy competition to see who is returning the best mpg figures. I'm all for this encouragement of best practice," Alan Waugh concludes.
Still family-owned and operated, William Waugh (Edinburgh) Ltd was founded in 1858. Today sixth generation Alan Waugh steers the business from a large site at Granton in north Edinburgh. Volvo trucks have featured in this operation for over 30 years and the company's recent diversification into logistics includes membership of the Pall-Ex network, covering the EH and KY postcodes.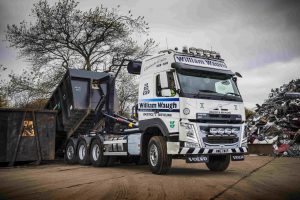 http://www.volvotrucks.co.uk/en-gb/news/press-release.html?pubid=22526